Introducing "The Serial Box" by N6TV
The "Swiss Army Knife" of interface boxes
Serial Port Splitter / Amplifier Interface / FSK, CW, and PTT keying interface / Breakout Box
See also "The Y-BOX" – a K3/K3S ACC port splitter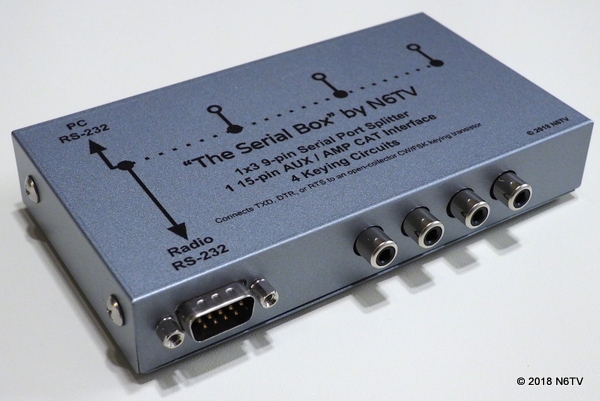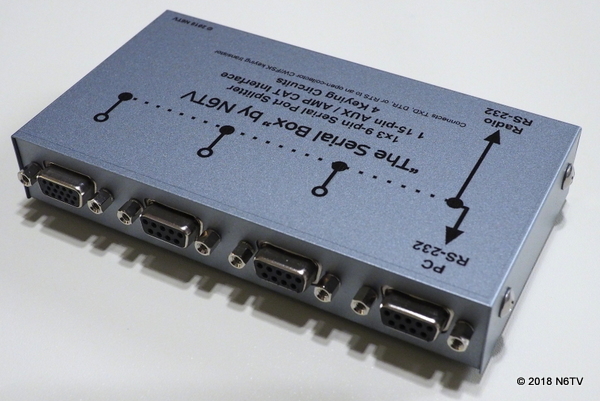 New!
The Serial Box USB (S-BOX-USB) with built-in genuine FTDI USB-to-Serial adapter: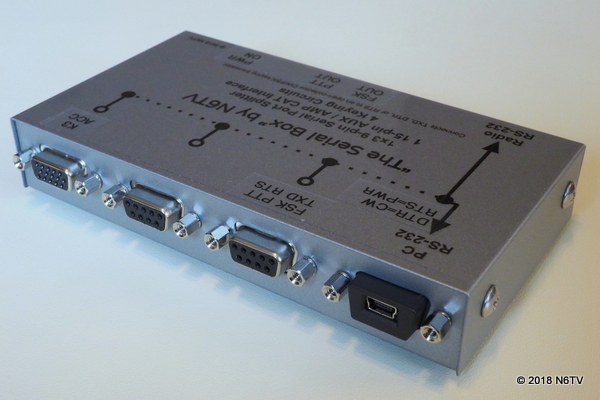 The Serial Box (or "S-BOX") makes it easy to connect multiple devices to any transceiver – no custom cables or splitters required.

Connect:
Any control device with a serial port or available USB connector (PC, MAC, Linux, microHAM, RemoteRig)
Any automatic amplifier designed to monitor serial port traffic (Elecraft, ACOM, SPE)
Any automatic antenna controller that monitors serial port traffic (SteppIR, KRC2, ShackMaster SM-8)
Any other device designed to track frequency changes by monitoring the transceiver's serial port (e.g. RFSpace SDR-IQ)
The S-BOX also includes four (4) independent open collector keying circuits that can be internally wired to the TXD, DTR, or RTS pins of any serial port. These can be used for:
FSK keying
CW keying
PTT keying
Relay control
Remotely powering up an Elecraft product by pulsing the "Power" pin to ground (see RemoteHams RCForb)
A single serial port can control the radio and key CW and PTT over the DTR and RTS pins of the same cable, providing a convenient way to key transceivers that do not have this feature built-in.
The S-BOX may also be used as a "breakout box" for any device with a 15-pin D-SUB connector (DA-15 or DE-15), including ACOM and SPE amplifiers, the FlexRadio FLEX-6000™ series, and the 4O3A Antenna Genius. You can connect any pin to any of the four independent RCA connectors.
See the eHam.net reviews here
For ordering and pricing info., click here
Order form direct link here
Limited quantities ** IN STOCK **
What's Inside? Click photo to enlarge – click schematic to download PDF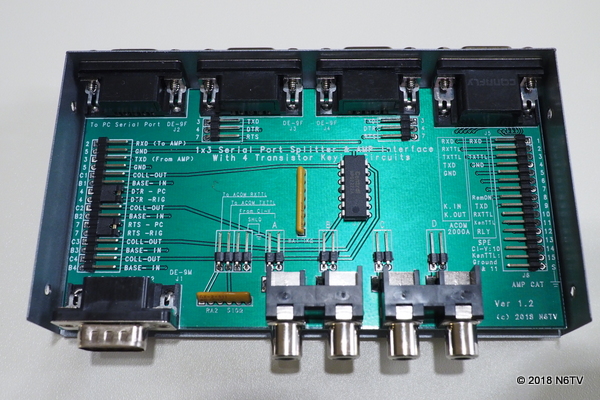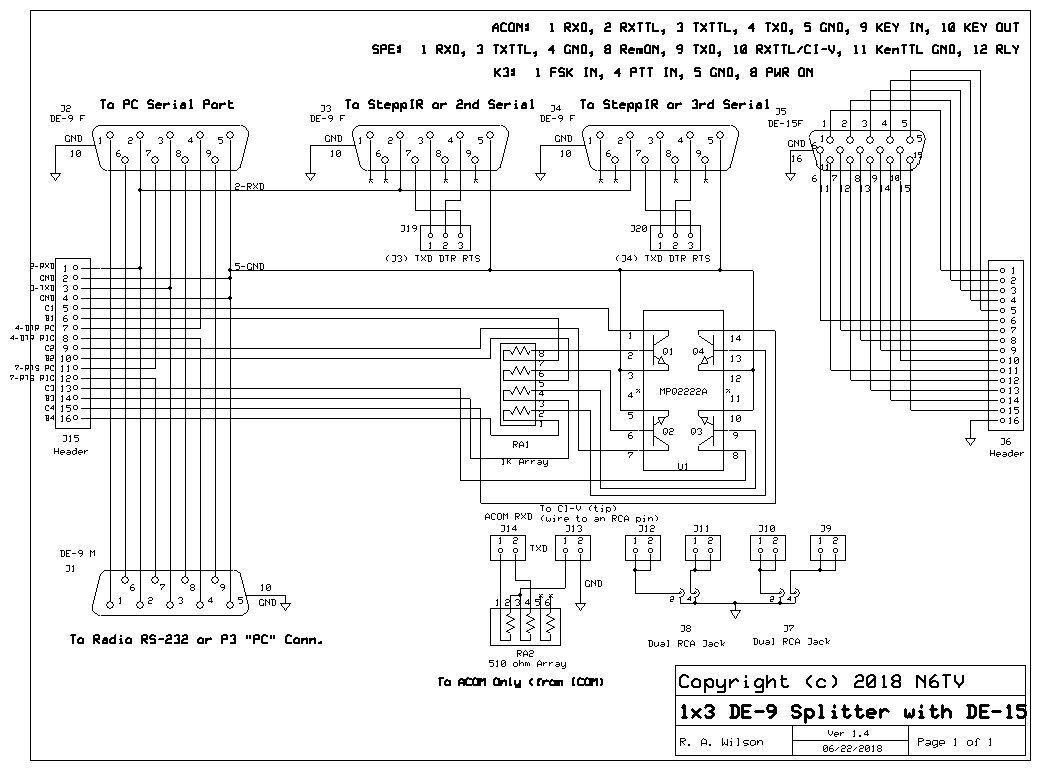 Click the links below to review the benefits of using the S-BOX with each of these products:
Every Serial Box Provides:
1 DE-9F 9-pin serial port input (in S-BOX)
Connect to a PC or MAC serial port, microHAM MK2R/MK2R+ serial cable, RemoteRig RRC-1258MkIIs, or to a USB-to-Serial adapter
-or-
1 MINI USB-B input (in S-BOX-USB)
Connect to a PC or MAC USB port. The S-BOX-USB includes a built-in FTDI USB-to-Serial adapter and USB cable


1 DE-9M 9-pin serial port output
Connect to the transceiver's serial port. All lines passed straight through from input


2 shunt jumpers for RTS and DTR lines of main serial input
Connects RTS and DTR lines either straight through to the transceiver, or to the inputs of two internal keying circuits


2 DE-9F 9-pin serial port "Y" outputs -or- 2 FSK/PTT/CW serial port inputs (or one of each)
Connect to a SteppIR controller, RFSpace SDR-IQ, Elecraft KPA500 XCVR port, etc. By default, only the RXD and GND pins are connected in parallel with the serial input ("listen only" mode)
-or-
Connect the TXD/DTR/RTS lines to any of the four internal keying circuits, for FSK, CW, PTT, Remote Power ON via ground pulse, etc.


1 DE-15F 15-pin CAT/AUX connector
Connect to an SPE Expert 15-pin CAT port, ACOM 15-pin CAT port, Elecraft K3/K3S 15-pin ACC port, Elecraft KPA500/KPA1500 15-pin AUX port, or to a Y-BOX or any device with a 15-pin D-SUB connector


4 open-collector serial port keying circuits
Connect keying circuit input to a serial port's TXD, RTS, or DTR lines. Connect keying circuit output to the transceiver's FSK, CW, or PTT inputs, or to a Remote Power On line.
Connect to transceiver via RCA patch cords, or to an Elecraft K3/K3S via a single 15-pin cable via the AUX connector


10 or more Internal jumper wires
Connect header pins as needed for any configuration, such as routing a keying circuit output to an RCA connector, or PC RXD line to an automatic amplifier


4 RCA phono connectors
Connect keying circuit outputs (CW, PTT, FSK) to transceiver
Connect SPE/ACOM/KPA1500 amplifier inputs (Relay, Key In, TX Inhibit, ALC, Icom CI-V, Icom Band Voltage, Remote On, etc.) to transceiver or to another device
Connect standard phono cables (RCA male to TRS or TRRS male) to Elecraft KX2 or KX3 serial and ACC connectors. The S-BOX can replace both the KXSER cable and KX2ACBL. The S-BOX-USB can replace both the KUSB and KXUSB cables
Connect to 12V output from radio, split to multiple low-current 12V RCA outputs for P3, K-POD, etc.
Connect to 12V output from radio to SPE CAT Remote Power ON pin
Optional cables:
DE-9 M/F Amphenol® serial cable
Connects PC serial port or USB-to-serial adapter to S-BOX input. Connects S-BOX output to transceiver. Also connects KPA500 XCVR port to S-BOX
2.5 ft (0.76m) or 5.0 ft (1.5m)
DE-15 M/M Amphenol® 15-pin cable
Connects S-BOX to ACOM CAT port, or connects S-BOX to Elecraft K3/K3S ACC port, or connects S-BOX to a Y-BOX
2.5 ft (0.76m) or 5.0 ft (1.5m)
DE-15 M/F Amphenol® 15-pin cable
Connects S-BOX to an Elecraft KPA500 or KPA1500 AUX port
2.5 ft (0.76m) or 5.0 ft (1.5m)
DE-15M to DA-15M custom Amphenol® 15-pin cable
Connects S-BOX to SPE Expert amp. CAT port (all 15 lines wired straight through)
5.0 ft (1.5m) only
Specifications:
Weight: 9 oz (255 gm)
External Dimensions (including connectors and feet): 5.75" x 3.75" x 1" (14.61 cm x 9.53 cm x 2.54 cm)
Rubber Feet: 4
"The Serial BOX" – the simple solution to your high tech transceiver interface challenges
73,
Bob, N6TV

4 September 2018 07:24 UTC