Introducing "The Y-BOX" by N6TV
A 4-Way Splitter and Breakout Box for the Elecraft K3 and K3S
— Wayne Burdick, N6KR, Elecraft Co-Founder and Chief Technology Officer
See also "The Serial Box" – a new serial port splitter, amp and keying interface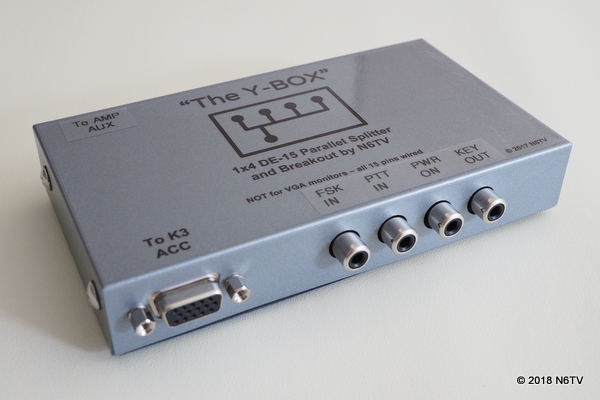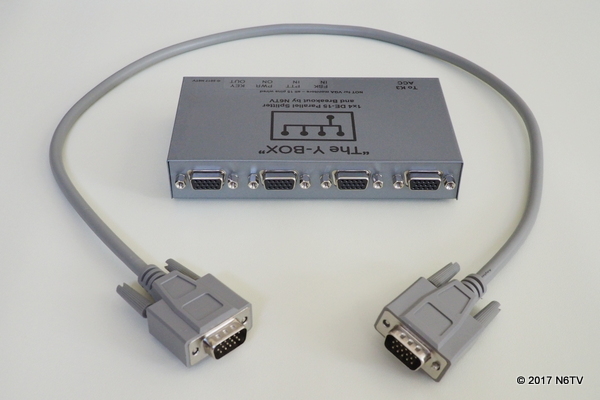 The Y-BOX makes it easier to connect multiple devices to an Elecraft K3 or K3S transceiver: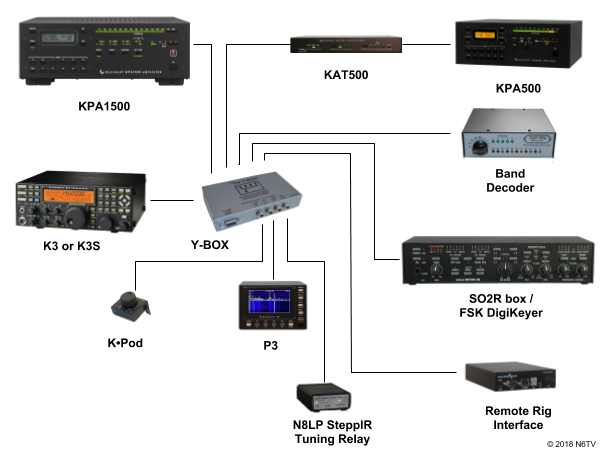 The Y-BOX may also be used as a breakout box for any device with a DE-15 connector, including ACOM and SPE amplifiers, the FlexRadio FLEX-6000™ series, and the 4O3A Antenna Genius.
Click the links below to see more details and photos:
Read the eHam.net reviews here
For ordering options, click here
Limited quantities ** IN STOCK ** – Please click here to customize your order
What's Inside? (click to enlarge)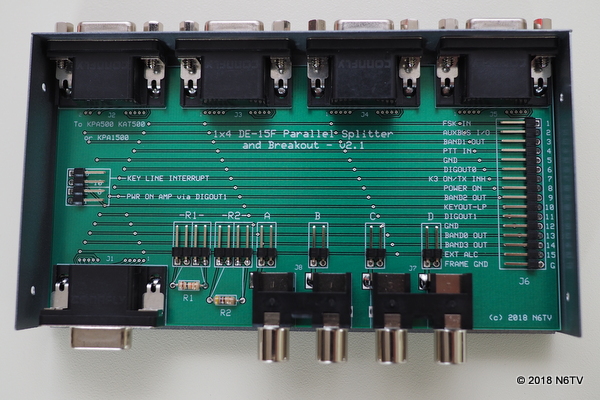 Specifications
DE-15F Connectors with all 15 pins wired in parallel: 4
DE-15F Connector for AMP AUX (no connection on Pins 1,4,6,7,8): 1
Female RCA Connectors: 4
Internal wire jumpers supplied with each Y-BOX: 6 (length and colors vary)
Internal shunt jumpers supplied with each Y-BOX: 2
Weight: 8.5 oz (241 gm)
External Dimensions (including connectors and feet): 5.75" x 3.75" x 1" (14.61 cm x 9.53 cm x 2.54 cm)
Rubber Feet: 4
Optional DE-15 M/M Cable: 2.5 ft (0.76m) to connect Y-BOX to K3 or K3S
Optional DE-15 M/F Cable: 2.5 ft (0.76m) or 5.0 ft (1.5m) to connect Y-BOX to Elecraft KAT500, KPA500, or KPA1500
"The Y-BOX" — Why not?
73,
Bob, N6TV

21 March 2019 00:44 UTC