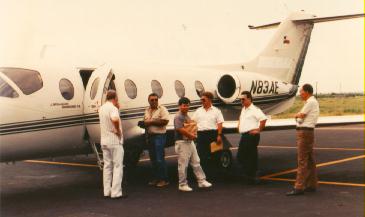 6D2X Lives!
L to R: XE2FN - Jose Manuel "Guero" de la Fuente
XE2XDX/AA5VC - Beto Munoz
XE2CF - Jose Luis Rodriquez (Head S.C.T.) Tamaulipas
AA5VC's pilot and co-pilot
uinidentified airport official
Beto takes his Texas "taxi" down to Cuidad Victoria to get the XE2XA/6D2X liscense in July of 1990.